Today, the provision of a transit service is central to enabling a more sustainable community: optimizing land use and facilitating peoples' mobility by walking, cycling and transit. All of these actions reduce traffic, smog and GHG emissions by reducing the use of single-occupancy vehicles.
A Tofino sized twist on Transit/Mobility/Private Transit/Rural Transit/Microtransit/Shuttle Bus/…whatever you want to call yours, we call our Peoplemover –
TikiBus
In a town without year-round transit and one single substandard taxi provider… Tofino we thank you for making TikiBus your preferred way of getting home at the end of your evening!
(but did you know that we really want to drive you during the daytime too Tofino?)
What is Micro Transit?
Microtransit is a term that describes an on- demand transportation system that allows for flexible routing
and scheduling of shuttle buses. It is a new idea in the transportation industry.
TikiBus is an on-demand shuttle service in Tofino that provides a unique and convenient alternative mode of transportation. Along with our designated Bus Stops, riders can request a pickup and drop off location. The shuttle driver is able to share the bus' location with your smartphone for you to check on our current location.
Feel free to contact us with your Bus needs in Tofino we would be happy to help you out if we can.
+ Bus Charters
+ Wedding and Group Event Shuttle
+ Employee Transportation
+ Your Community Bus Service (we're small enough to still have that personal touch and be a little flexible with your needs)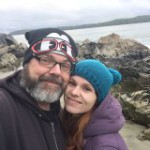 Driver/Owners
Chris & Leeanne McLellan
Long time Tofino locals (He loves to drive/She doesn't drive at all) who understand the frustration of trying to move around in Tofino without an automobile when the weather doesn't feel the best for cycling or walking and want to do what we can to improve everyone's quality of life by experimenting with our TikiBus Community Transit service. We believe that affordable, convenient, and comfortable transportation should be available for everyone.
WE LOVE WHAT WE GET TO DO FOR A JOB
I love driving people.
I love helping people get where they want or need to be.
I love it even more when I can help make 20 people happier than they were a half-hour earlier.
I like a congestion free town.
I enjoy trying to hypermile in a bus.
I love being a bus driver.

WE LIVE HERE TOO WE KNOW HOW HARD IT CAN BE TO GET FROM Point A to Point B without wheels of your own #getonthebus
We've been here a long time. We know how hard it can be to get a ride. We want to help out with that problem.
YOU CAN HELP ME AND I CAN HELP YOU TOFINO. #TikiBus
Are you trying to do something good in Tofino and putting on an event but are also wanting to get people there without bringing their cars?
Perhaps you are nervous about chartering because "It's not in the budget" or "I wonder if people will use it"?
TikiBus can reduce your risk by working the event into our schedule at our minimum call out fee. As a result, your patrons would pay a fraction of the normal fare and be motivated to leave their cars at home.